Stages, A Children's Theatre Workshop is throwing the 20th annual Halloween Bash that you and your children won't want to miss. Frankenstein Follies, a Halloween-themed musical review directed and choreographed by Helene Leonard, features all your favorite monsters and ghouls with a cast of local young performers.
Now returning for its 20th year, Frankenstein Follies has become a favorite Halloween tradition. Frankenstein Follies also marks 100 productions for Stages. Join the fun at the Bay Street Theater in Sag Harbor on Friday, October 24th at 7:30PM, Saturday, October 25th at 2:00 PM and Sunday, October 26th at 2:00 PM. Tickets are $15.
To celebrate our 20th birthday, a special 20th Anniversary Alumni Performance and Benefit Reception will take place on Saturday, October 25th at 7:30 PM. Many of Stages past actors will be returning to participate in a performance of Frankenstein Follies that is sure to be a Monster Smash. A reception will follow the performance. Tickets for this benefit performance are $35 ($25 for students) and include the reception. Proceeds will help support Stages' scholarship program. Join in the fun to celebrate Stages 20th birthday! Call now to purchase your ticket for this "spook-tacular" event.
Tickets for all performances of Frankenstein Follies, including the Alumni Performance & Benefit Reception, are available at the Bay Street Theater Box Office, 631.725.9500. For more information call Stages at (631) 329-1420, or contact us at info@stagesworkshop.org. Visit us at our website, www.stagesworkshop.org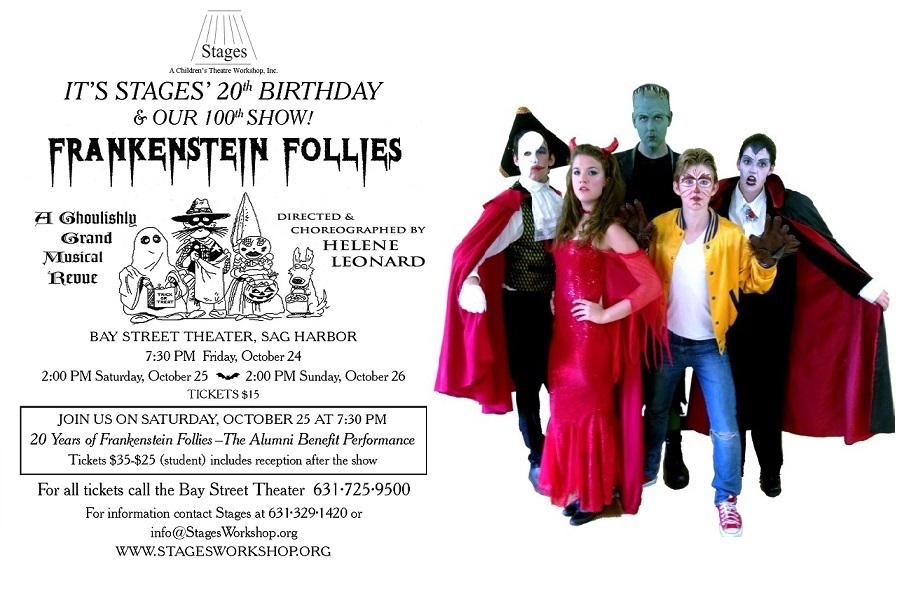 Gene Stilwell
631.324.8080 ext. 218
GStilwell(at)1TownandCountry(dotted)com