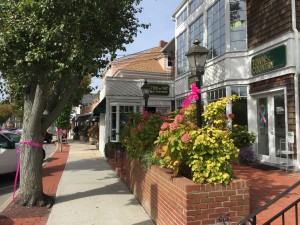 The East End is awash in pink bows. From Westhampton Beach to Montauk, our main streets are heralding the arrival of breast cancer awareness month thanks to volunteers from the Coalition of Women's Cancers at Southampton Hospital. If you look closely in shop windows, you will also see the Coalition's multi colored ribbons. The Coalition is a local charity that provides services for East End women battling breast, ovarian and uterine cancers. All monies raised stay local and make a difference in the lives of these brave women and their families. If you are inclined to donate this month, think local! In addition to the Coalition for Women's Cancers, the East End has other wonderful organizations that help those with cancer, including Lucia's Angels and Fighting Chance.
According to statistics from breast cancer.org, about 1 in 8 women will develop invasive breast cancer in her lifetime. 85% who develop the disease have no family history of breast cancer. There are currently 2.8 million women worldwide who are surviving breast cancer today. Awareness of the disease has led to earlier detection and better survival rates.
Many thanks to the Coalition's volunteers in painting our beautiful villages and hamlets pink to raise awareness this October!
Creating and sustaining a supportive network in our community for women affected by breast, ovarian, and uterine cancers. The CWC focuses on education, early detection and empowerment to bring about better health care and improved quality of life.