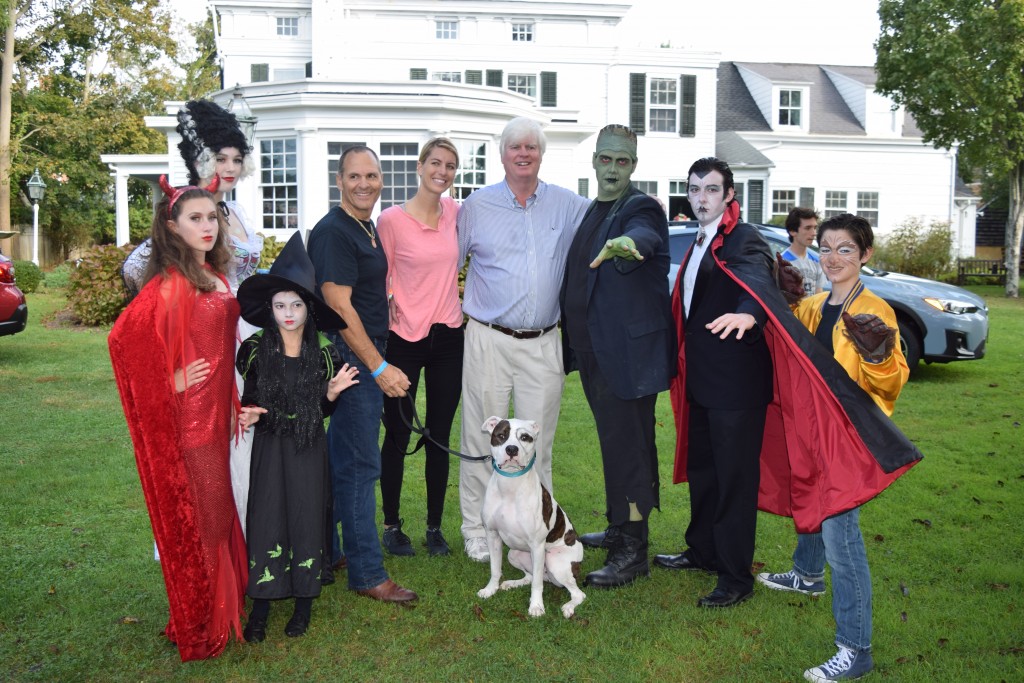 Recently Sean Deneny, a Town & Country Real Estate associate in Southampton, New York, organized two interconnected events "Paws on Parade," a daytime family gathering with pets and "Ties & Tails," an evening cocktail party at the Rogers Memorial Mansion. These events were created to support local charities in the Southampton K – 12 community.
"Paws on Parade" was a true family event, where everyone gathered on the grounds of the Southampton Historical Museum with the pets that complete their families. With about 100 in total, all strolled down South Main Street from museum grounds to Agawam Beach where pets frolicked in both sand and water. On the twenty-minute journey back, Father Patrick of St. John's Episcopal Church performed his annual Blessing of the Animals, a tradition at St. Johns for over 75 years.
On returning to museum grounds, children enjoyed theatrical face painting and photo ops with the cast of Bay Street's Stages Children's Theater "Frankenstein Follies" in character prior to their three-day weekend performances at Bay Street Theatre in Sag Harbor. Professional photography of families and pets were also provided in the Sayre barn and on surrounding grounds. A light breakfast was offered as well as Hubert's famous Lemonade. All of this was offered for an early bird admission of $20 with children 12 & under at no charge, a price point that all families welcomed. A Chinese auction was also provided.
For families considering additions to their family, the Southampton Animal Shelter showcased a variety of adoptable dogs some of which were recently rescued from Texas, Florida, and Puerto Rico. Fun activities for pets included Indiana Bones, a dog agility course, and Romancing the Bone, a time test where pets must retrieve a bone hidden underneath one of four hats.
In conjunction with the "Paws on Parade" event, the "Ties & Tails" cocktail and hors-d'oeuvres evening party was hosted at the Rogers Mansion. A slideshow showcased the up close and personal photos of the day and for those who wanted a taste of television, audience tickets were part of the silent auction including "Live with Kelly Ripa & Ryan Seacrest," Dr. Oz, as well as the "Late Show with Stephen Colbert" on CBS among other treasured items.
According to Mr. Deneny, "Too often we go to the well with our local village restaurateurs and retailers, whose annual revenues are tied to seasonal traffic." With that in mind, sponsorships were secured with the Southampton office of Town & Country Real Estate, Farmers Insurance, Riverhead Bay Subaru, and Hubert's Lemonade. Over $16,000 was raised and distributed after expenses to the Southampton Animal Shelter, First Response volunteer fire department and ambulance corps, Stages, A Children's Theatre Workshop, as well as the Southampton Historical Museum. Long-term goals are to create a larger pool of monies to reach out to other 501 C 3 organizations.
All 2017 sponsors Riverhead Bay Subaru, Farmers, and Town & Country Real Estate have confirmed renewals for our October 2018 events.