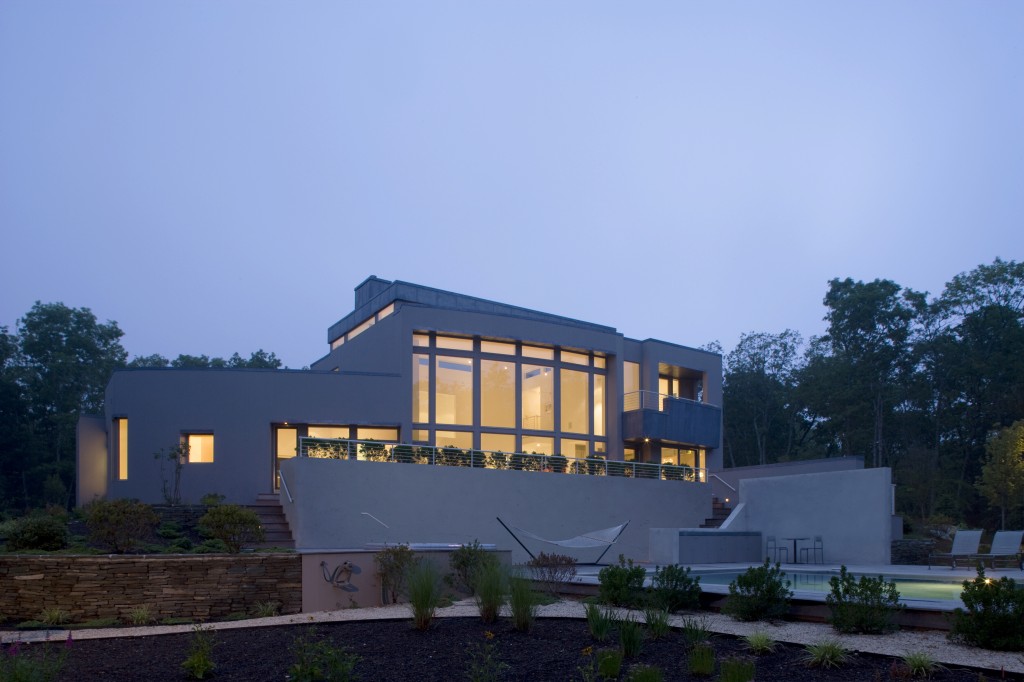 Striking modern architecture and site orientation come together in perfect balance with this Bruce Nagel designed Hamptons home for sale in the beautiful and private Northwest area of East Hampton, NY. Nagel, an award-winning architect based in Southampton with notable projects across the East End of Long Island, made efficient use of space and took advantage of the natural light to illuminate this modern home.
The design of the home, inspired by the likes of architects Richard Meier and Charles Gwathmey, is a sophisticated and timeless combination of ideas that will surely impress. Grand 22' tall ceilings and walls of windows provide panoramic views and seem to raise the home above the 2.15 acres of manicured grounds.
"When I first saw the interior architecture of the house, I was inspired by the open volume and the relationship the house had with the surrounding landscape," says Igal Toledano, an interior designer who has been putting a luxurious, modern twist on interior design for the last 35 years. "I decided to interfere as minimally as possible with the architecture. To allow for ample floor space for free movement, I designed built-in storage units that maintained the integrity of the overall design of the space."
The free-flowing spaces begin on the first floor with a luxurious master suite, living room with fireplace, den, and open dining room. An oversized gourmet kitchen is ideal for entertaining with a generous kitchen island and stainless-steel appliances. A Zen garden sets the tone for the other levels and outdoor spaces.
Keeping with the philosophy and design of the home, you ascend to the second level of the residence up an open maple staircase with unobstructed inside/outside views. Two spacious ensuite bedrooms with private decks await.
The lower level of the home features two additional bedrooms, a large bath, exercise and entertainment areas, plus a spacious storage room. Auto enthusiasts will appreciate the heated 3-car garage at the end of a long flat driveway with ample parking.
Expansive, multi-leveled outdoor decks create conversation areas around the outdoor kitchen, large hot tub, and 20 x 40 gunite swimming pool with flagstone coping. A family-sized outdoor shower completes the outdoor area.
Toledano remarked, "The house was unlike many of the homes I'd worked on, in terms of location and positioning. From inside you have a vast panoramic view of the surrounding landscape while offering one complete and total privacy."
For more details and a private showing of 20 Bearing Road, East Hampton NY contact exclusive listing agent Richard Swift, Town & Country Real Estate, 631.324.8080, RSwift@TCHamptons.com.