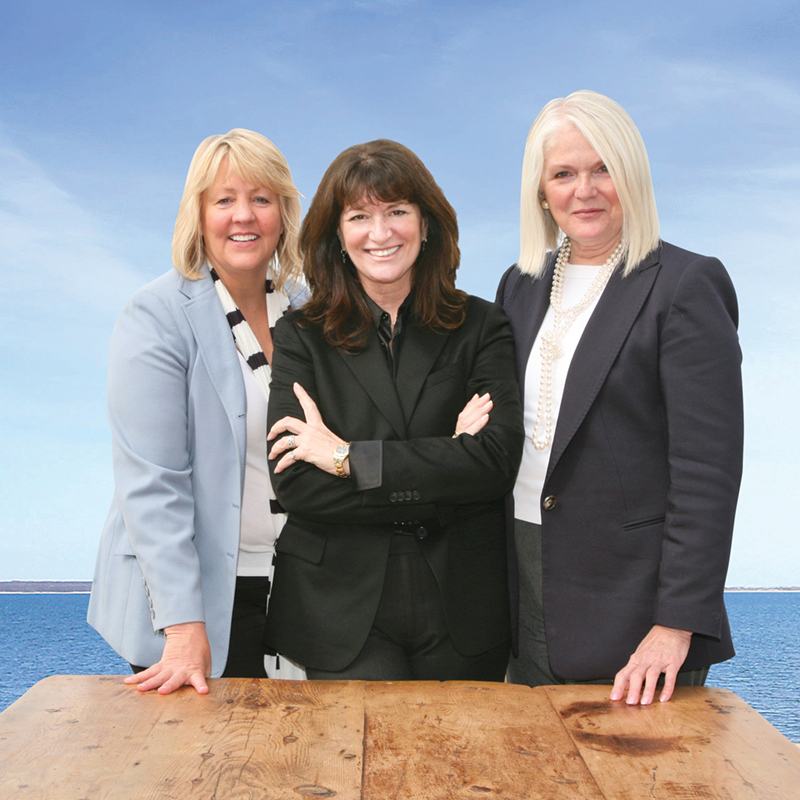 Judi Desiderio, CEO and Founder, opened Town & Country Real Estate, a boutique real estate agency, in one of the worst bear markets the Hampton and North Fork had ever witnessed. Judi says that it "may have been a bit bold in such challenging times" but "the real estate people I have known are true entrepreneurs and think outside the box. So, with entrepreneurs in mind, combined with my love and knowledge of real estate, I set my sails."
Janet Hummel, Managing Partner, joined Judi shortly thereafter and quickly established a successful Town & Country presence in Bridgehampton. She says of Town & Country agents, "Our agents are able to achieve excellence because they are dedicated to their field. They know we are taking care of all the support they need from marketing to technology."
In 2008, Nancy McGann completed the partnership and as Managing Partner opened the Southampton Office. "Our aim is to deliver superior service to our clientele while maintaining a cohesive working environment. The only way to accomplish this goal is carefully selecting who represents Town & Country. Every agent's identity and character is important to the success of our company. It's quality, not quantity, that truly matters."
Together, these three highly regarded, experienced professionals apply their years of experience and accumulated knowledge to assist their agents and brokers in servicing the most discerning clientele.
THE EAST END IS OUR BOARD ROOM
With over 80 years collectively in real estate on the East End, Judi Desiderio, Janet Hummel, and Nancy McGann remain steadfast and true to their mission statement to position Town & Country Real Estate as the leading East End real estate agency by focusing on a clientele that expects and deserves unparalleled service from a select group of real estate professionals.
EXPERIENCED HAMPTONS & NORTH FORK REAL ESTATE AGENTS
Town & Country is the largest, most comprehensive locally owned and operated, independent real estate agency on Long Island's East End founded by Hamptons real estate veteran, Judi A. Desiderio.
We have offices staffed by experienced professional real estate agents. These experts in their field service the charming towns, villages, and hamlets of Long Island's sought after Hamptons and North Fork:
As an independent real estate agency, with on-site owner operators, Town & Country Real Estate has the flexibility of a boutique. Yet we offer the expansive reach and scope as the corporately held real estate companies and franchise operated conglomerates.
At Town & Country Real Estate our professional real estate agents provide personalized service for customers and clients. Our agents service all types of real estate investments including homes, land, summer house rentals, and commercial properties throughout Long Island's East End including the Hamptons and North Fork.
Our select group of experienced real estate professionals have vast networks of repeat and referral customers and clients. Yet at times, new clients, customers and brokers find us on the Internet via our marketing programs which we customize for our Exclusives. Listing Exclusively with Town & Country gives you the greatest advantage.
COMMITTED REAL ESTATE AGENTS WITH ADVANCED TECHNOLOGY
Our secret – the winning combination begins with dedicated real estate agents who excel in marketing plans executed in the unique Hamptons and North Fork. We support that work with the most advanced technology available in the real estate industry. Further, we offer the guidance and support of hands-on owners and managers with depth of knowledge and years of experience in selling high end Long Island real estate. To further position T&C associates above all others, we have assembled a marketing department whose sole duty is to empower our agents like no other firm can do.
We don't just list your property… we sell it.