VIEW ALL BRANDING ADS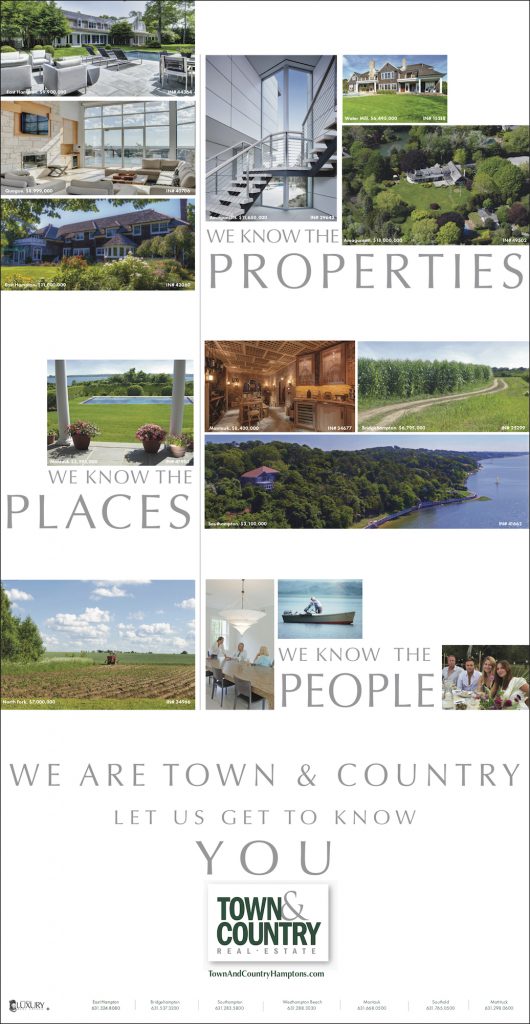 When it's time to buy or sell real estate, there is nothing more valuable than industry knowledge and expert guidance that only a seasoned real estate professional can provide. Therefore, the most important choice you make as a seller is whom you choose to represent you. Our associates and staff are carefully selected. They are the top-tier in their specific markets, the best of the best, and most importantly, they have the respect of their peers — a further testament of their professional attributes. Such distinction is unparalleled by any other company and has raised the bar for all others.
Today, more than ever, a real estate professional is an invaluable resource when selling, or buying, a home in this complex market. At Town & Country we pride ourselves on being the only East End Real Estate Brand that delivers all of the following:
Specialized Professional Skills
Trustworthiness
Industry Knowledge
Expert Guidance
Hyper Focus on Client Needs
Expertise in Contract Negotiations
Responsiveness
Contract Knowledge
Networking Ability
Knowledge of the Community
Global Reach
This winning combination of dedicated real estate agents who excel in marketing plans, along with the most advanced technology available in the real estate industry, and the guidance and support of hands-on owners and directors with depth of knowledge and years of experience is what affirms why Town & Country is the broker of choice in the Hamptons and North Fork.
WHAT TOWN & COUNTRY KNOWS THAT OTHERS DON'T
Town and Country's expansive reach throughout the Hamptons, North Fork, Manhattan and worldwide yields a wealth of experience for buyers and sellers alike. Having grown at unrivaled speed to meet our clients' demands, we're the largest independent real estate firm exclusive to the East End, comprised of top-tier agents, the latest online marketing tools and unparalleled expertise. Since no other realtor has lived and worked out here as long as our associates, you're assured the deepest guidance and widest connections to help navigate the best of the Hamptons lifestyle. Entrepreneurs think outside the box, and that's paramount when you want to find the right property and negotiate the best deal. Town & Country associates have the expertise to accomplish this goal successfully.
Not only do we have the richest resources, we offer the uniquely personal intimacy that's lost in large conglomerates. Widely respected for the character and integrity of our brokers and sales associates, we have the most advanced technology for changing markets, with a world wide web presence. Our depth is key, because expertise can't be bought or manufactured, it can only be earned. Our 150 seasoned real estate professionals in eight strategically located offices are standing by, equipped with more experience, insight and reach than any other to best service you. And we've formalized compelling alliances with leading real estate agents and brokers in New York City, Palm Beach and globally for greater exposure and powerful results. So it's easy to access us 24/7. All this creates a largely stress-free experience for our customers and offers flexibility from often less effective corporate cultures encountered elsewhere.
Experience the Town & Country Difference. Walk in or call us today and let's talk real estate.