7 Lari Lane
In the heart of Shelter Island, you will find a hidden jewel. This carefully curated property overlooking Coecles Harbor offers everything you could want in an island home – at-hand boating leisure, a view from nearly every room, and 2.3 acres of roaming landscape. There's even a charming gazebo to take in the sunset after a day on the boat.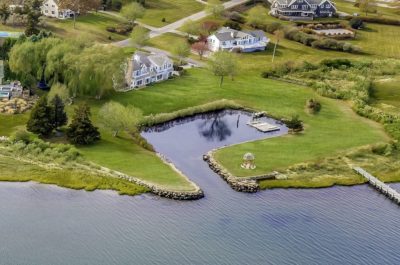 Backyard Basin
The highlight and rare advantage of this home is the backyard boat basin that was built in 1968 at the labor of 3 local men; Fred Smith, Frank Klenawicus, and Alfred Polywoda. Built from the ground up, it is 1 of the only private boat basins on Shelter Island.
Hop on your vessel and take a sunset cruise or an afternoon paddle-board ride in Coecles Harbor as simple as one, two, three. The basin resembles an active wildlife sanctuary attracting various fish, several edible shellfish, and differing birds. The ease, beauty, and history of the backyard boat basin creates a rare gem.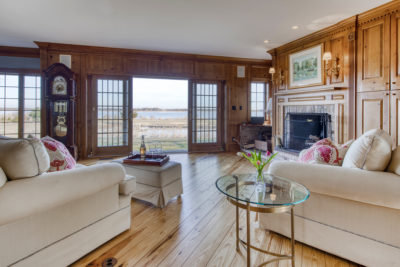 Beauty in the Detail
As you step into the welcoming 4,300-square-foot home, you'll notice it's designed to take in all the beauty of its surroundings, with a layout perfect for entertaining or simply curling up with a good book.
A notable detail is the Smallbone cabinetry throughout the kitchen and master bathroom, and other woodwork that was handcrafted by Alan Bennett of Shelter Island who traveled the world installing such masterpieces. It was inspired by the woodwork in the Mary Murray Room of the Union League Club in Manhattan. It further yields that 'one of a kind' feeling you have when you explore this property.
The second floor encompasses 4 spacious bedrooms, including the master bedroom with a walk-in closet, jacuzzi bathtub, and in-room fireplace. The porch from the master bedroom makes for a great spot to watch the sunrise over Coecles Harbor.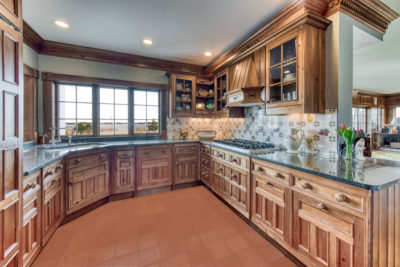 All 7 homes on the private road of Lari Lane enjoy shared tennis courts and a waterfront park that includes a deep water dock.
Priced at $4,500,000, 7 Lari Lane is represented by Judi A. Desiderio, RE Broker, 631.324.8080; Jeanmarie Bay, RE Salesperson,  917.519.4180; and Marie Bransfield, RE Salesperson, 631.965.8940 of Town & Country Real Estate.