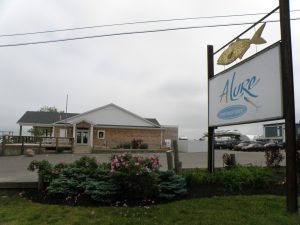 What better way to celebrate the new Summer Season than with the opening of a new seafood restaurant: and at the spot of my favorite past hangouts – the old Seafood Barge which is now entirely re-done.
Tom Schaudel and Adam Lovett of "AMANO" fame in Mattituck debuted ALure this memorial day weekend on Main Road between Southold and Greenport at Port of Egypt.
Let's assume the restaurant is as good as we have come to expect of these two restaurateurs – then add a fabulous waterfront location with great patios overlooking the Bay and marinas, and you really cannot go wrong. It remains hard to find spots with great views for dining al-fresco and this is one of the best! The restaurant is not (yet) taking reservations – so if you have to wait a bit – visit one of Southold's best kept secrets: Charlie's Southold Fishmarket – hidden behind the Heron Harbor Inn and ask for a chunk of his home-smoked Salmon – absolutely fabulous – to take home… And let me know how you liked it… Call Alure at 876 5300.