Town and Country Real Estate partners Janet Hummel, Nancy McGann and myself attended a presentation by The Nature Conservancy today in their East Hampton office at 142 Route 114.
We were invited by Paul Brennan, along with a dynamic selection of local Real Estate professionals – the topic was Clean Drinking Water on Long Island. This was the start of a grassroots movement on the East End to educate, and then deploy means to prevent the East End from the sufferage that Nassau County is experiencing.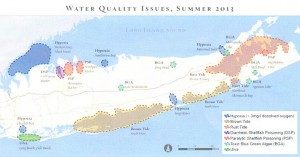 Studies have shown that it is the nitrogen pollution that its cause algae bloom, some of which are toxic to humans, marine life and vegetation. Nitrogen pollution is caused by septic systems and cesspools. Requirement on the municipal level, for all 5 East End towns to install redesigned septic systems that clean the waste better, is the area of change needed. The Hamptons, North Fork and Shelter Island all poised to set the bar higher for others.
As inhabitants of an island, we must all be keenly aware of water quality.
The Suffolk County Water Authority states, "almost 70% of Suffolk County community supply wells were rated as high or very high for susceptibility to nitrate." (2013 Report)
There is a solution! We urge you to let your local governments know you want to spend an ounce of prevention RIGHT NOW.