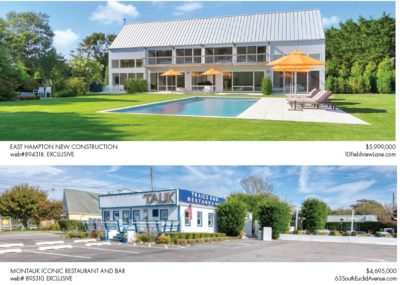 Real Estate has, historically, been one of the best hedges against inflation. East End properties have proven to be excellent, stable, long-term investments. My stockbrokers, financial advisors, and accountants convinced me to "diversify" with stocks, bonds, and securities. I went kicking and screaming years ago.
Now, more than three decades later, they are all clients and my real estate investments in land, commercial & residential have secured my future. Having brokered real estate transactions through the '87 crash, 2000 NASDAQ crash, 2008/2009 fall of Bear Stearns & Lehman Bros, and several market rallies, I have countless clients who THANK me for advising them to buy vs. rent and invest in our North Fork and South Fork properties.
It makes me happy to know I had a small part in securing their financial futures. Certainly, there are times when our prices get a little "over our skis", but letting some air out, corrections never last too long. Frankly, our tiny peninsula, being surrounded on three sides by water, creates a permanently limited supply of inventory. markets come and markets go. The one piece of advice I can give, with total confidence, is to buy East End Earth, but don't over-leverage.
Live in your best investment.