Dear Edwina is coming to the Hamptons for the very first time! Stages, A Children's Theatre Workshop, is bringing the family musical to Pierson High School in Sag Harbor at special kid-friendly performance times: Friday, July 25 at 7:00 PM, Saturday, July 26 at 11:00 AM, and Sunday, July 27 at 5:00 PM.
Dear Edwina is a heartwarming show about the joys of growing up. The show's heroine, Edwina Spoonapple, is a young "advice giver extraordinaire", a spunky, singing version of Dear Abby for the younger set. Edwina and her friends put on a show in her garage every week, sharing their lessons through clever, catchy and often poignant songs and dances. It's like "Glee" for kids, but adults will love it just as much as the children they bring.
Dear Edwina features music by Zina Goldrich and book and lyrics by Marcy Heisler. Both were nominated for Drama Desk Awards for their work. This production is directed and choreographed by Helene Leonard, and features the actors from the Stages Summer Musical Theater Camp, now in its 20th year.
Dear Edwina runtime is about an hour and half. $15 tickets can be reserved by calling Stages at 631.329.1420, or emailing info(at)stagesworkshop(dotted)org , or come buy them at the door. Edwina and her friends will be waiting for you!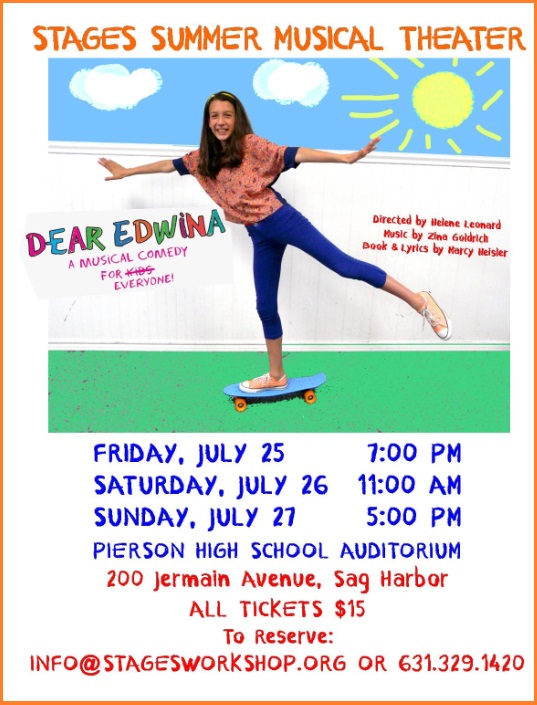 Gene Stilwell
631.324.8080 ext. 218
gstilwell(at)1townandcountry(dotted)com