My name is Will Stoecker and I am the founder of the recently-established East Hampton Film Society, a local film club that meets twice a month in Guild Hall's John Drew Theater to screen classic and arthouse films to the public. On March 5th, we had our Grand Opening screening of The Godfather. This week, we are showing Wes Anderson's (Grand Budapest Hotel) classic Bottle Rocket on Thursday, March 19th at 8:30pm, followed by a panel discussion with local film enthusiasts.
This is simply a message to the press to spread the word about the event. It would help tremendously if you could pass on the message! I have attached the events flyer, links to Guild Hall's event page and ticketing page, as well as the films trailer.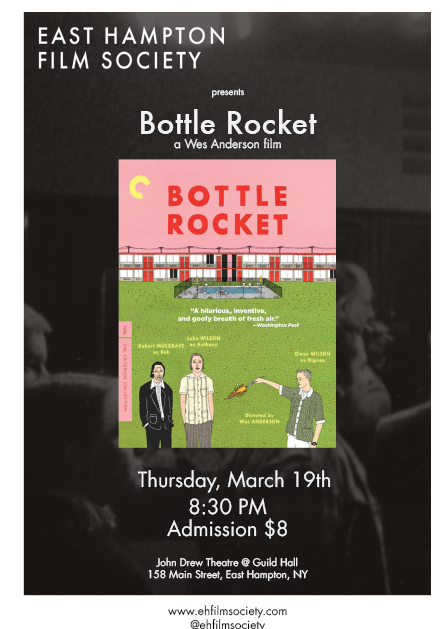 Guild Hall event page: http://www.guildhall.org/events/?id=690&mode=id
Online Tickets: https://web.ovationtix.com/trs/pe.c/9982691
Trailer: https://www.youtube.com/watch?v=hspUSez-rYY
Thank you so much, and we hope to see you there!
Will Stoecker
Senior Curator & Founder
East Hampton Film Society
ehfilmsociety(at)gmail(dotted)com
631.204.7997