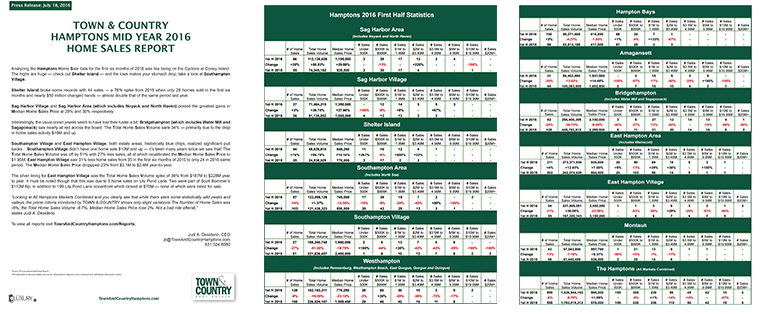 CPF (Community Preservation Fund) money is revenue by and for the five East End towns of Southampton, East Hampton, Riverhead, Southold, and Shelter Island. Revenues originate from a 2% tax charged ordinarily to the buyer at most real estate closings since its inception in 1999. Last year, total revenues collected surpassed the billion dollar mark – quite a milestone. CPF money is earmarked for preserving sensitive or important East End properties.
Frankly, all East End properties are important. But here potential purchases are put before committees and the public is very much apprised. All residents are very grateful for the acquisitions made over the years. Future generations will be fortunate to enjoy such beauty and reserved lands.
In monitoring the Community Preservation Fund and selected properties and the wish lists that exist, Town & Country Home Sales Reports give insight as to future revenues. Town & Country Reports separate 12 individual markets that are the drivers on the East End. Viewing the Mid-Year Report, it became clear that 2016 was going to not yield as much liquidity as 2015 did.
Clearly, the Bridgehampton Market (which also includes Watermill and Sagaponack), usually the top earner, was off by -34% from $450Million Mid-Year 2015 to $296Million, same term 2016. Southampton Village sank over 50% to only $108Million, yet East Hampton Village rose 36% to a respectable $228Million. These Total Home Sales Volumes let us know how much money will be put the coffers for future acquisitions.
As the local municipalities take these properties off the tax roll and add them to their holdings, maintenance of same, at times, becomes an issue. Preserving open space and water sheds are vital to our future. Parklands and public spaces are necessary for recreation and enjoyment are as well.
CPF income will inevitably vary year to year as our market are driven by those in the world of finance and their choice to buy or not buy move with the stock market.
Bottom line, some years will be better than others for acquisitions…such is the world of East End Real Estate.