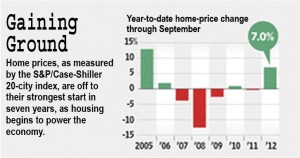 This was a T&C Blog dated November 21st, where we predict the next evolution of the U.S. Housing Market will actually drive the economy. Then on November 28th, front page of my Wall Street Journal a similar prediction in an article by Conor Dougherty, Nick Timiraos and Neil Shah called "Now, Homes Drive Economy". Quoting THS Global insight who projects a 1% growth rate, with housing contributing 0.53% – the greatest contribution from housing since 2005. S&P/Case-Shiller National Index released a 7% increase through the first 9 months of 2012, again the strongest since 2005.
2005 was the height of home sales activity in the Hamptons.
October 19th Town & Country's Blog Post:
U.S. Home construction rose 15% in September – the fastest rate in 4 years.
October 23rd Town & Country's Blog Post:
NAR reported existing home sales rose 11% in September 2012, from previous year…the 15th straight month of year over year gains in home sales.
November 19th Town & Country's Blog Post:
Inventory on existing homes across the country now 22% lower than just a year ago.
November 20th Town & Country's Blog Post:
U.S. Housing starts at a 4 year high at $894,000, highest since July 2008!
November 27th Town & Country's Blog Post:
$1 million mortgages spike a whopping 28% year to year in the first three quarters of the year – again the highest levels since 2008.
ARE YOU IN?