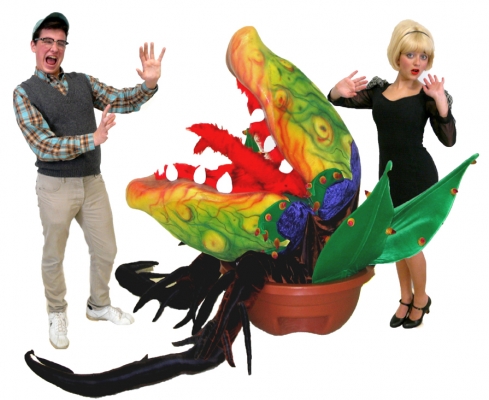 "Little Shop of Horrors," the devilishly delicious sci-fi smash musical, will be performed by the young actors of Stages, A Children's Theatre Workshop helmed by Helen Leonard and her husband Town & Country Real Estate's East Hampton office manager and sales agent Gene Stilwell. The 50's rock doo-wop musical has devoured the hearts of theatergoers for over 30 years. Howard Ashman and Alan Menkin (Little Mermaid, Beauty and the Beast, Aladdin) are the creative geniuses behind one of the longest running Off-Broadway shows of all time.
Little Shop of Horrors follows the misadventures of Seymour, a down and out florist assistant who becomes an overnight sensation after discovering an exotic plant with a craving for fresh blood. Soon the plant, Audrey II, grows into an R&B singing carnivore who promises Seymour fame and fortune in exchange for feeding its growing appetite. We soon learn that the plant is an alien planning on world domination. Filled with quirky humor and irresistible songs , this spoof of 50's sci-fi disaster films has become one of the most popular shows in the world with an Off -Broadway, Broadway and musical movie version .
Bravo to Helene Leonard who directs and choreographs Stages' production of Little Shop of Horrors. The show features local young actors and Amanda Jones and James Benard provide the musical accompaniment.
Audrey II, the plant puppet, was designed by Martin P. Robinson, New York City, and constructed by Character Translations, Inc., for Music Theatre International.
All tickets are $15, call 631-725-9500 to order. The show opens at Bay Street Theater (Bay Street, Sag Harbor) on Saturday, May 14, 2016 with a matinee at 2pm and another show at 7:30pm. The final show will be Sunday, May 15, 2016 at 2pm.