For the week of Nov 30, 2009 // Vol. 7, Issue 48
Last Week in Review
I hope you enjoyed a wonderful Thanksgiving weekend with friends and family. I certainly have much to be thankful for, including many wonderful clients and friends like you.
As your Trusted Advisor, I sincerely hope you've been enjoying your complimentary subscription to The Mortgage Market Guide Weekly. Your next full issue will arrive "hot off the press" next week. In the meantime, please enjoy the video link below.
The Mortgage Market Guide Weekly is the industry's leading publication of this type, and I'm pleased to provide this valuable resource to you. If you feel that any of your clients, friends, family members or associates would benefit from keeping up-to-date on market and economic trends with this easy-to-read format, please let me know, and I will be happy to add them free of charge.
Best wishes to you.
The Mortgage Market View…
This time of year is all about reflection. Taking the time to take in and consider the blessings in our lives-from family and friends to education and opportunity. But it's also a time to renew our spirits and souls, especially as we prepare to head into the bustling holiday season and a new year.
One of the best ways that I've found to reflect upon my blessings and the opportunities before me is to view this
I hope you had a happy Thanksgiving and that this video helps you hold those blessings in your heart throughout the year.
If you need any assistance during this special time of year, please call or write. I'm always happy to make time for wonderful clients and friends like you.
Special video from Power of Attitude. This video contains emotional and inspirational messages combined with powerful images of beauty.
The Week's Economic Indicator Calendar
Remember, as a general rule, weaker than expected economic data is good for rates, while positive data causes rates to rise.]
Economic Calendar for the Week of November 30 – December 04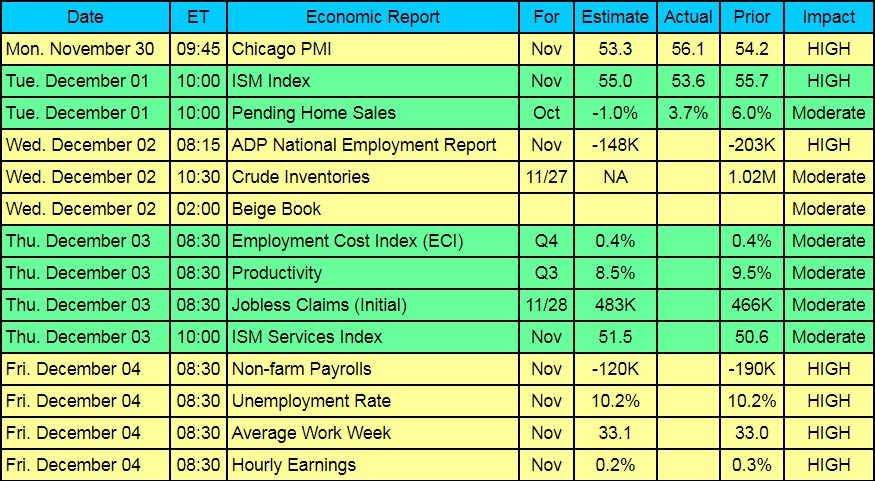 The material contained in this newsletter is provided by a third party to real estate, financial services and other professionals only for their use and the use of their clients. The material provided is for informational and educational purposes only and should not be construed as investment and/or mortgage advice. Although the material is deemed to be accurate and reliable, we do not make any representations as to its accuracy or completeness and as a result, there is no guarantee it is not without errors.
As your trusted advisor, I am sending you the Manhattan Mortgage Company Mortgage Weekly Update because I am committed to keeping you updated on the economic events that impact interest rates and how they may affect you.
In the unlikely event that you no longer wish to receive these valuable market updates, please USE THIS LINK or email: ejarrett(at)manhattanmortgage(dotted)com
If you prefer to send your removal request by mail the address is:
Eve Robin Jarrett
Manhattan Mortgage
75 Main Street, 2nd Floor
East Hampton, NY 11937
The Manhattan Mortgage Company is the copyright owner or licensee of the content and/or information in this email, unless otherwise indicated. The Manhattan Mortgage Company does not grant to you a license to any content, features or materials in this email. You may not distribute, download, or save a copy of any of the content or screens except as otherwise provided in our Terms and Conditions of Membership, for any purpose.