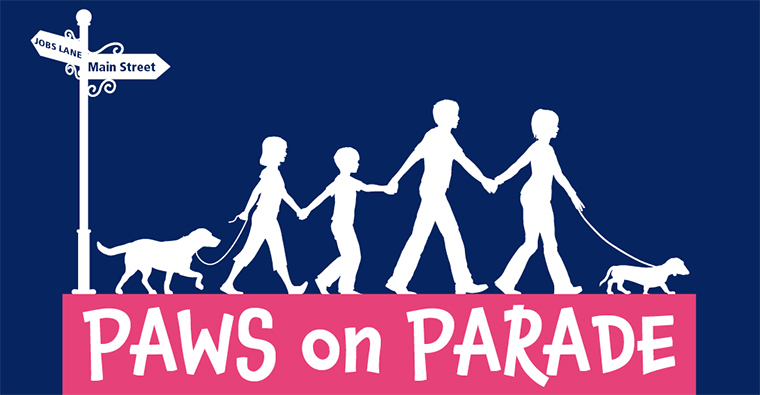 Help our community by participating in Paws on Parade proudly sponsored by Town & Country Real Estate. Create a fundraising team and walk with us on October 7th. Help us reach our goal. Join us!
Register today! Here's the rundown: Participants have the option of registering as an individual, starting their own Team as a Team Captain, or joining an existing Team. You will gain access to all of the tips and tools you'll need to spread the word and reach your personal fundraising goal!
Create and personalize your own fundraising web page, then collect pledges from friends and family directly through the site. It's that simple!
PAWS ON PARADE
Paws on Parade is a fun-filled family celebration with the pets in our lives. Participants will stroll from the Rogers Mansion to the Bathing Corporation beach, a twenty-three-minute walk one way. St. John's Church will host its "Blessing of the Animals" and be a water station. Limited return transportation from the beach will be provided courtesy of Town & Country Real Estate. Explore family-friendly activities on the Southampton Historical Museum grounds including contests, an agility course, auctions, photo ops with Bay Street's Frankenstein Follies Halloween cast in character, face painting and much more! A light breakfast will be sponsored by Town & Country Real Estate. Come PAW'TY all morning to help us reach our goals in supporting the animals of the Southampton Animal Shelter and restoration programs at the Southampton Historical Museum. No rain date.
LOCATION: Grounds of the Rogers Mansion, 17 Meeting House Lane
DATE & TIMES: Saturday, October 7, Gates open at 9:30 AM; Walk begins at 10:30 AM
FEE: $20 in advance, $25 day of
TIES & TAILS
Ties & Tails is a cocktail party with a Jazz Era theme. The benefit takes place at the 20-room, Rogers Mansion with furnishings and music from the 1920s and 30s. Guests will enjoy an open bar with hors d'oeuvres in the period rooms of the mansion developed during Southampton's Gilded Age. The Mansion is managed by the Southampton Historical Museum. Proceeds from the event will be shared with the Southampton Animal Shelter, Southampton Village Fire Department, Southampton Village Ambulatory Corps and SYS's Stages Children Theatre Group. Tickets to Ties & Tails include 2 tickets to Paws on Parade.
LOCATION: Rogers Mansion, 17 Meeting House Lane
DATE & TIMES: Saturday, October 7, 5:00 – 7:00 PM
FEE: $125 until October 4, $150 October 5 – 7
For more information visit: PAWS ON PARADE 2017